Are you a mom getting ready to re-enter the workforce? Feeling overwhelmed? Want to make a smart decision—one that could save you precious time?
We get it. Going back to work is a big decision after having kids. That's because working moms really have two jobs: raising their kids and clocking forty hours or more a week for an employer.
While the returns on motherhood can be amazing, those of most traditionally female-dominated occupations often aren't much to brag about in terms of pay. This is especially the case when compared to jobs that men have historically held down in the construction industries.1
When your kids are old enough for you to go back to work, you might consider settling for a position like teaching, secretarial work or medical assistance.
But why settle when you could choose potentially better wages and job satisfaction in the skilled trades?
Get Started on the Path to a New Career
Fill out our form to learn how we can help you change your life.
Learn more about the skilled trades advantage for working moms, and three fields specifically where the numbers are particularly appealing.
Why Working Moms Should Consider Careers in the Skilled Trades
"Why did I have to go to school and take all of this debt for a job that I never really wanted to begin with? I could've gone to school for two years, got an associate's degree, or even just gone into … union carpentry, never taken out any debt and made a ridiculous amount of money in a field that's in demand. … Why wouldn't people want to do this? That just makes sense to me." — Carlyn McClelland told Good Morning America. McClelland is a former stay-at-home mom now working as a licensed contractor in Middlebury, Indiana.
If there's one thing working moms typically don't have enough of, it's time. It can be hard enough for them to find an hour for the gym or coffee with friends, let alone to train for a new career.
Then there's the cost of childcare. It can take a big chunk out of a family's income.2
These factors can make finding a profession with relatively quick, inexpensive training and healthy earning potential important for working mothers.
Fortunately, the skilled trades may offer a solution.
Benefits of the Skilled Trades for Working Moms
Quick Training

Trade school programs, like those at The Refrigeration School, prepare people for positions in the skilled trades and can take two years or less to complete. This is much quicker than four or more years of college.3

Healthy Earning Potential

Compared to many predominantly female occupations, the wages for skilled trades fields can be higher.

The gender pay gap tends to be smaller in construction occupations than in other fields.

This news release from the BLS sheds light on that:

The median weekly earnings of full-time workers in the U.S. was $908 in the second quarter of 2019, with women earning $814 (81.4 percent) of the $1000 men made.

But in installation, maintenance and repair occupations, women earned $1,148, while men took home $950, which means women earned 20 percent more than what men did. Women made more than men. It can happen in the construction sector.

Strong Demand for Skilled Trades Workers

The skilled trade shortage means there's a strong demand for men and women with the right training and qualifications.

And women are underrepresented in the trades, making up just 9.1 percent of the construction industry. This means there's a big opportunity for women to enter fields like HVAC service, welding and electrical work. Women can train for all of those careers at The Refrigeration School.
Your Skilled Trades Options: 3 Great Careers for Moms Going Back to School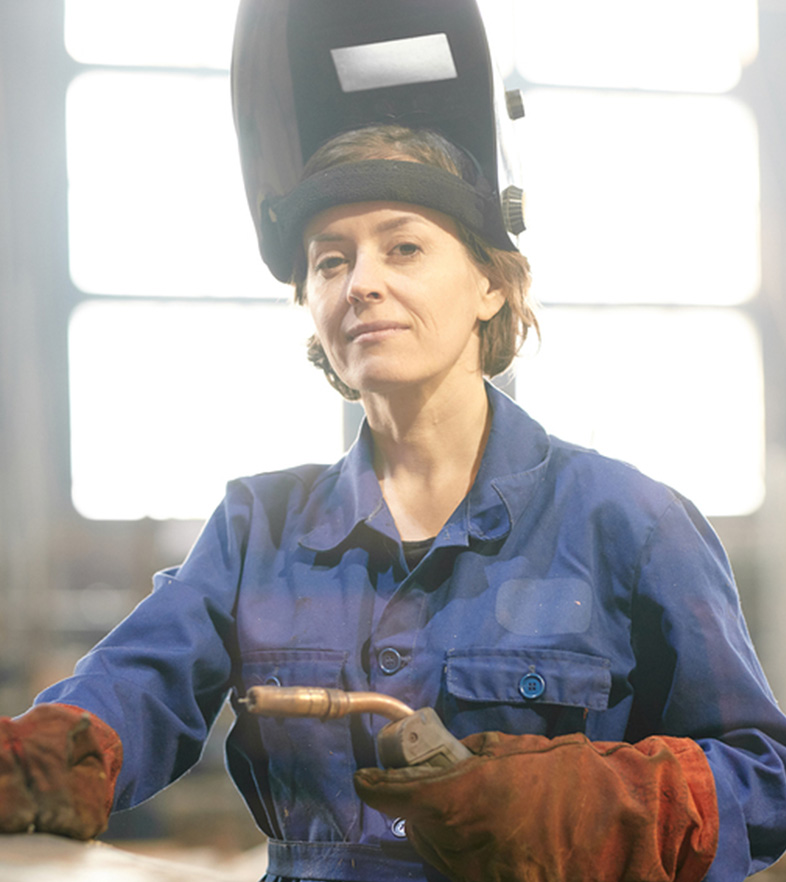 With so many skilled trades to choose from, you may be wondering which one could be best for you.
Below are three careers for moms going back to school, broken down by training time, career potential and earning potential.
HVAC Technician
Job Description

HVAC technicians service the heating, cooling, ventilation and refrigeration systems responsible for controlling air quality and temperature in homes, schools and office buildings. Primary job duties include HVAC equipment installation, maintenance and repair.

Training Time

Employers typically prefer to hire HVAC techs with trade school training, which can take anywhere from 6 months to 2 years.

Job Growth

HVAC technician jobs are projected to see 13 percent growth.4* This could mean healthy career opportunities for women in HVACR in the coming years.
Solar Photovoltaic Installer
Job Description

Often referred to as PV installers, these tradesmen and women assemble, install and maintain the networks of solar panels found on rooftops.

Training Time

Trade school courses on solar panel installation, basic safety and photovoltaic system knowledge and design can span just a few days or several months.

Job Growth

Job growth is set to be 63 percent through 2028 for solar photovoltaic installers.5** It's one of the Bureau of Labor Statistics' fastest growing occupations.
Pipefitter
Job Description

Pipefitters install and repair the pipes transporting gases or liquids to, from and within factories, businesses and homes. Plumbers and steamfitters fall into the same BLS occupational category as pipefitters.

Training Time

Women can get started on the path to a career as a pipefitter in as little as seven months in a welding training program like the one offered at The Refrigeration School. Although most plumbers, pipefitters, and steamfitters learn on the job through an apprenticeship, some start out by attending a technical school.6

Job Growth

The BLS predicts 14 percent job growth for pipefitters through 2028.6***
Working Smart in the Skilled Trades
Moms going back to work are really taking on a second job in addition to raising their kids. So why not choose fields with relatively quick training and better earning potential than the roles women traditionally take on in the job market?
If you're interested in seizing opportunities in the skilled trades, finding support can help with the transition. Check out these resources for women in HVACR.
*According to BLS data Arizona employed 8,020 Heating, Ventilation and Air Conditioning installers (49-9021) through 2018. http://data.bls.gov/oes.
**BLS data for Arizona unavailable.
***According to BLS data Arizona employed 8,390 plumbers, pipefitters and steamfitters (47-2152) through 2016 https://www.careeronestop.org/Toolkit/Careers/Occupations/occupation- profile.aspx?keyword=Pipe%20Fitters%20and%20Steamfitters&onetcode=47215201&location=Phoenix,%20AZ
1 – https://www.bls.gov/cps/cpsaat39.htm
2 – https://aptparenting.com/problems-faced-by-working-mothers
3 – https://study.com/vocational_schools.html
4 – https://www.bls.gov/ooh/installation-maintenance-and-repair/heating-air-conditioning-and-refrigeration-mechanics-and-installers.htm#tab-1
5 – https://www.bls.gov/ooh/construction-and-extraction/solar-photovoltaic-installers.htm#tab-1
6 – https://www.bls.gov/ooh/construction-and-extraction/plumbers-pipefitters-and-steamfitters.htm#tab-1
This blog has been labeled as archived as it may no longer contain the most up-to-date data. For a list of all current blog posts, please visit our blog homepage at https://www.rsi.edu/blog/