What do the COVID-19 pandemic and trade schools have to do with each other? More than you might think.
Millions of Americans were forced to reconsider their academic and career plans because of the pandemic. Over a year later, many are still dealing with the consequences of the COVID-19 shutdowns:1 college and university enrollment rates have been declining as high school students are seeing a 4-year degree as less necessary to get a good job. At the same time, many trade schools are seeing healthy interest from high school students and adults, many of whom cited the pandemic as their main motivation for pursuing welding training, electrician courses and HVAC/R programs.2,3
Here, we'll take a look at how the pandemic has impacted trade school enrollment, why people are motivated to pursue this career path, and how to apply for trade school.
Are the Trades Becoming More Popular?
One result of the pandemic has been a growing interest in the skilled trades.3 A decrease in college enrollment was anticipated at the height of the pandemic, but 4-year institutions are still reporting record declines a year later.4
A recent StrataTech survey was conducted to determine how people are feeling about the trades. Here are some of the most compelling findings:
Get Started on the Path to a New Career
Fill out our form to learn how we can help you change your life.
Many View the Trades Positively after the Pandemic
For decades, a college education was heralded as the most effective way to land a competitive position. The uncertainty caused by the pandemic is starting to challenge that idea. In fact, 57% of people claimed the COVID-19 pandemic was their primary motivation for enrolling in or considering enrolling in trade school programs.2
Another 87% of Americans currently enrolled or who considered enrolling in a vocational program viewed the trades positively.2 When focusing solely on high schoolers, the survey found 80% of students had positive views of the trades.2
Students Want a Closer Connection between Education and Employment
The Strada Center for Education Insights asked adults without a degree what it would take for them to return to school. The number one response was guaranteed employment outcome.5 Another survey involving a variety of education experts sought to determine what challenges were preventing people from going back to school.1
A common obstacle cited was the lack of connection between education and employment opportunities.1 This trend could be pushing many would-be college enrollees to the trades. In fact, the top two motivations for those enrolling or thinking of enrolling in trade school programs were job placement after graduation and the opportunity to gain real-life experience.2
Workers Want a Secure Source of Income
When unemployment rates were at an all-time high of nearly 15% during the pandemic, millions upon millions of workers suddenly lost their reliable source of income.6 In search of a new career, many people have made income stability a priority. The StrataTech survey revealed 62% of people who were forced to find an extra source of income because of the pandemic were considering enrolling in trade school as a result.2
Plus, 56% of people who enrolled or considered enrolling in the trades due to the pandemic were searching for a more secure source of income.2 Another 29% wanted the protection that came with the "essential worker" status many tradespeople, such as refrigeration technicians, enjoy.2
How Do You Get into a Trade School?
Every trade school may have different admissions requirements. Below are 4 common steps people take to becoming trade school students and preparing for their careers in the skilled trades: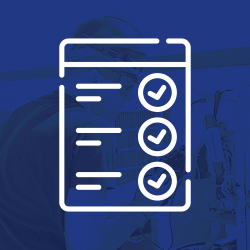 1. Meet the Trade School Program Requirements
Just like with a 4-year university degree program, students interested in the trades have to meet certain requirements before applying. Although specifics can vary slightly between each trade school, there are some common requirements among all schools. So, what do you need to go to trade school?
First and foremost, you should be at least 18 years old to apply or have a parent's approval to enroll before you turn 18.7 In terms of education, you need a high school diploma or General Equivalency Development credential (GED).7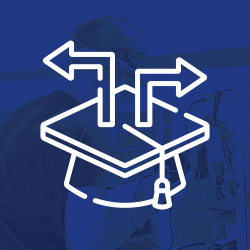 2. Choose a Trade Career to Pursue
Now comes the exciting part: choosing the trade you want to pursue. Do you want to work as part of a team or individually? Would you prefer working outside or inside? Answering these questions can make it easier to find a career that lines up with your personal interests, strengths and goals.
There are countless trades from which you can choose, each with unique advantages. You could train to work as an entry-level commercial HVAC-R technician, a residential electrician, a welding specialist, or in other trades that pique your interest. It's important to learn as much as you can about a skilled trade before beginning your trade school journey to make sure it's a good fit for you.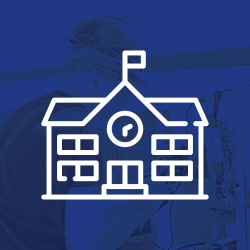 3. Find a Reputable Trade School Program
After figuring out what trade you want to pursue, it's time to find a reputable trade school that can put you on the right path towards future success. A trade school offers specialized training in certain trades to qualify students for work in those fields. At The Refrigeration School, we offer a variety of trade school programs to help students prepare for entry-level positions as HVAC/R technicians, electricians and welders.
Our programs can last anywhere between three and 15 months and provide you with the training to prepare for entry-level jobs in HVAC/R, welding or electrical wiring. If you'd like to learn more about our specific programs, feel free to request info.
4. Pass the Trade School Entrance Interview
Before being admitted into a trade school program, many admissions departments require potential students to undergo an entrance interview.7 This preliminary interview usually occurs during the orientation phase of the program. When you successfully pass the assessment, you're officially enrolled in the program.
Is It Hard to Get into Trade School?
With an increased interest in the trades, many people are wondering whether or not it's difficult to enter a trade school program. When compared to the prolonged admissions process and competitiveness of colleges and universities, trade school could be easier to get into. Of course, every school may have different requirements, so it's important to check with the admissions department of the specific one you're considering attending.
If you're interested in training at a trade school, contact The Refrigeration School to learn more about our vocational training programs. Call 855-935-0486.
1https://stradaeducation.org/report/reconnecting-hs-experts/
2https://stratatech.com/wp-content/uploads/2021/10/2021-StrataTech-COVID-19-Pandemic-Survey.pdf
3https://hechingerreport.org/more-people-with-bachelors-degrees-go-back-to-school-to-learn-skilled-trades/
4https://www.insidehighered.com/news/2021/04/29/spring-brings-even-steeper-enrollment-declines
5https://cci.stradaeducation.org/report/back-to-school/
6https://fas.org/sgp/crs/misc/R46554.pdf
7https://www.rsi.edu/wp-content/uploads/rsi-school-catalog.pdf
This blog has been labeled as archived as it may no longer contain the most up-to-date data. For a list of all current blog posts, please visit our blog homepage at https://www.rsi.edu/blog/