A master electrician is usually an electrician who has earned the highest level of certification and licensing for electricians.1
At this level of mastery, an electrician is qualified to work unsupervised, and can supervise and train apprentices.2,3
If you are interested in running your own electrician business, you will likely need to work your way up to the level of master electrician, depending on the requirements in your state and city.2,3
Get an idea of the steps you could take to become a master electrician below.
Why Become a Master Electrician?
There are plenty of reasons why someone may wish to pursue the career path of a master electrician. Here are a few:
1. Professional Accomplishment
Achieving the level of master electrician can require many years of experience, diligence and training.4 It can be very rewarding to know that you have the skills and credentials to be the very best at what you do.
2. Higher Pay
As with most career fields, the more experience and certifications you have, the higher the pay bracket can be.4 This holds true for master electricians.4
3. Job Opportunities
Being at the highest level of electrician certification means that you will likely be qualified for more jobs than if you had less experience. Most projects need a master electrician to oversee them.4
4. High-Level Responsibilities
A master electrician is usually able to perform a greater variety of tasks than journeymen or apprentices, including overseeing some of the management aspects of a job.4
For example, a master electrician is typically able to pull permits, purchase supplies, work with the job site manager and consult with clients. This range of tasks and the higher level of work can be satisfying for people who enjoy running the show and having variety in their work life.4
5. Independence
Master electricians are generally able to work alone on job sites and don't need oversight. In fact, at this level, the master electrician is often the one trusted to oversee other electricians on projects.5
6. Professional Respect
Just knowing that you have a master electrician license can earn respect from peers, colleagues and clients. The master electrician license is a sign that you have a high level of knowledge and expertise.4
7. Business Owner
If you want to work for yourself rather than as an employee for a company, the primary way to become a business owner is to obtain a master electrician license.1
About 8.7% of all electricians are self-employed, according to the Bureau of Labor Statistics.6
Get Started on the Path to a New Career
Fill out our form to learn how we can help you change your life.
6 Steps to Becoming a Master Electrician (Example Career Path)

If you have your sights set on one day becoming a master electrician, the first thing you'll need to do is be qualified to enter an electrician training program. Like any career, achieving a high level of success can require time, commitment and experience.
Here are the steps some may take to become a master electrician: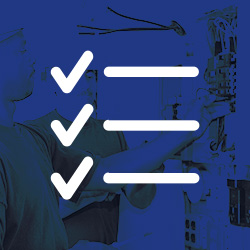 Step 1. Be Eligible to Receive Electrician Training
In order to enter an electrician training program, you usually need to be at least 18 years of age.
You usually need a high school diploma or equivalent.7 Specific requirements may vary by state and school.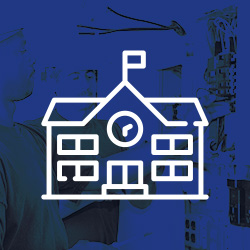 Step 2. Attend an Electrician Trade School
Enrolling in electrician training at a trade school is one way to begin gaining hands-on experience.7 The Electrical Technologies program at The Refrigeration School, for example, offers instruction in the fundamentals of electricity, as well as residential and commercial wiring—knowledge which can then be applied to an apprenticeship.7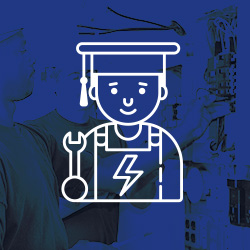 Step 3. Work as an Electrician Apprentice
Apprenticeships may last between 4-5 years.7 Time spent in a technical training program may count toward the hours needed to complete your apprenticeship. Apprenticeships typically require around 2,000 hours per year of paid, on-the-job training and instruction as you learn the trade under a master electrician.7,8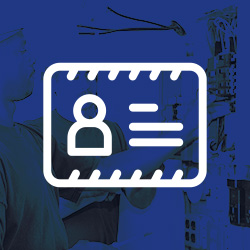 Step 4. Become Licensed
After completing an apprenticeship, you may need to pass a test and become a licensed electrician with your state, depending on where you live.7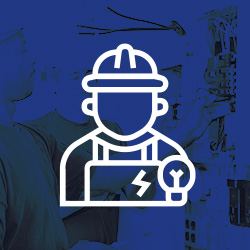 Step 5. Work as a Journeyman Electrician
After completing an apprenticeship, electricians can then become journey workers.8 You may need to pass a journeyman test.1
A journeyman is able to work on residential, commercial and utility electrician jobs, and can be an employee or an independent technician.
In order to be eligible to take the master electrician test, you will need to accumulate at least 2,000 to 4,000 hours of work experience as a journeyman.9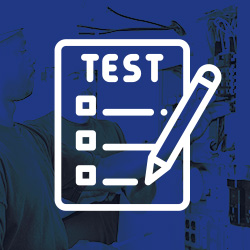 Step 6. Pass the Master Electrician Test
After 2-5 years of experience as a journeyman, including at least 12,000 hours of total supervised experience, you can then take the master electrician exam.7,9,10
How Long Does It Take to Become a Master Electrician?
Considering everything, from training to apprenticeship to taking and passing tests to accumulating on-the-job experience, it is reasonable to conclude that it would take no less than 6-7 years to become a master electrician.7,9
Of course, each person's individual career path can depend on a variety of factors:
State licensing requirements.7
Specific specialties within the field of electrical technologies.2
How quickly you complete your trade school and apprenticeship electrician training.7
How long it takes to pass the journeymen and master electrician tests.9,10
If you need to take any personal time off from accumulating work hours.
If you feel inspired to embark upon the first step towards becoming a master electrician, call The Refrigeration School today at 1-866-820-0823 to inquire about which of our three electrician training programs might be right for you.
1 https://www.electricianschooledu.org/master/
2 https://work.chron.com/differences-between-journeyman-master-electrician-2158.html
3 https://electricalschool.org/career-path-options-for-electricians/
4 https://www.contractorslicenseguru.com/5-benefits-of-becoming-a-master-electrician/
5 https://www.tradesmance.com/career-central/how-to-become-a-master-electrician
6 https://data.bls.gov/projections/nationalMatrix?queryParams=47-2111&ioType=o
7 https://www.bls.gov/ooh/construction-and-extraction/electricians.htm#tab-4
8 https://study.com/electrician_masters.html
9 https://www.wikihow.com/Become-Master-Electrician
10 https://work.chron.com/become-master-electrician-13517.html
This blog has been labeled as archived as it may no longer contain the most up-to-date data. For a list of all current blog posts, please visit our blog homepage at https://www.rsi.edu/blog/