Interested in technological innovations like renewable energy or the Internet of Things (IoT)? Want to work in one of these fascinating, emerging fields?
You could as an industrial electrician.
These professionals have a hand in getting wind, solar and hydroelectric power systems running. They play a big role in advancing the country's position in the global energy market through hydraulic fracturing.
And they help improve the productivity and maintenance of industrial machinery by incorporating sensors and telemetry devices.[1]
Industrial Electrician Job Description
Similar to residential and commercial electricians, industrial electricians primarily install, maintain and repair electrical systems.[2]
Get Started on the Path to a New Career
Fill out our form to learn how we can help you change your life.
The main difference is the setting. Rather than plying their trade in homes or offices, these tradesmen and women work in factories and plants. Consequently, they may work on larger, higher-capacity equipment.
Below is a list of their typical job duties:
Reading and interpreting specifications and blueprints
Installing, servicing and repairing conduits, wiring and fixtures
Conducting electronic inspections and tests
Grounding electrical systems
Servicing generators, motors and high voltage systems
Performing electrical work on environmental regulating systems, pumps and industrial lighting systems
Installing, maintaining and repairing heavy duty equipment and industrial communications systems
Cleaning circuit boards and contacts
Oiling motors and replacing wiring[3]
Troubleshooting and repairing electrical components
Working with programmable logic/automation controls[4]
Tools and equipment of the industrial electrician trade include electric welders, high-voltage portable cables and electrode-type boilers. They may also work with cranes and hoists, switchgear and industrial control assemblies and capacitors, reactors and storage batteries exceeding 1,000 volts.[5]
Industrial Electrician Jobs by Location and Industry
Where could you work as an industrial electrician? Some states and industries employ more of these tradespeople than others.
Geographic Locations
The Bureau of Labor Statistics (BLS) offers geographic employment data for all electricians. These states had highest employment levels for electricians in 2017:
California: 63,060 electricians
Texas: 60,080 electricians
New York: 41,920 electricians
Florida: 36,820 electricians
Ohio: 24,170 electricians[6]
These are all highly populated states, so it makes sense that the concentrations of jobs would be greater in them.
But factories and power plants can be found throughout the nation, and so can jobs for industrial electricians be found.
Industries That Electricians Work in
Industrial sectors had some of the top employment levels, concentrations of employment and compensation for electricians in 2017, reports the BLS.
Industrial Sectors with the Highest Employment Levels
Nonresidential Building Construction: 11,430 electricians
Utility System Construction: 8,980 electricians
Industrial Sectors with the Greatest Concentration of Employment
Coal Mining: 2,240 electricians
Metal Ore Mining: 1,110 electricians
Tobacco Manufacturing: 430 electricians
Ship and Boat Building: 5,000 electricians
Industrial Sectors with the Highest Compensation
Natural Gas Distribution: 720 electricians
Motion Picture and Video Industries: 2,540 electricians.[7] You might be surprised to learn that some celebrities began careers as electricians.
Typical Work Environments for Industrial Electricians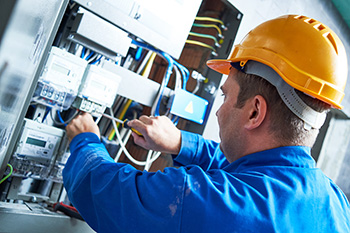 Beyond the specific industries cited above, there are certain work environments where industrial electrical services are typically needed:
Manufacturing plants
Factories
Research centers for the sciences
Smelters
Platforms and refineries for gas and oil
Shipyards
Power stations
Construction sites for industrial structures[8]
Industrial Electrician Training
How do you become an industrial electrician? Below is one path to this career:
Step 1: Finish high school or get your GED.
Step 2: Complete an electrician training program at a trade school.
Step 3: Apprentice as an electrician for four to five years.
Step 4: Pass the Journeyman Exam to work semi-independently under a master electrician.
Step 5: Pass the Master Electrician Exam to work as a foreman or supervisor.
Step 5: Take continuing education courses
Step 6: Obtain industry certifications[9]
The majority of states require electricians to pass an exam on state and local electrical codes, as well as the National Electrical Code to ensure they can safely install and main electrical equipment and wiring.
This is usually necessary to earn a license to work in the state. Since laws and the National Electrical Code sometimes change, continuing education is also a common requirement for electricians.[10]
Getting Started on the Path to Becoming an Industrial Electrician
If you're about to finish high school or already graduated, enrolling in an electrical technologies training program at a technical school can be the next step.
In as little as three months, you can learn the fundamentals of electricity. An electrician program can also be helpful with the next step on your path to this career, as the competition for landing an apprenticeship can be high.[11]
Want to learn more? Learn how to become a licensed electrician to see what might be in store for your future.
[1] https://www.electricianschooledu.org/industrial-electrician/
[2] https://www.bls.gov/ooh/construction-and-extraction/electricians.htm#tab-2
[3] https://study.com/articles/Industrial_Electrician_Job_Description_Duties_and_Requirements.html
[4] https://www.payscale.com/research/US/Job=Industrial_Electrician/Hourly_Rate
[5] https://www.electricianschooledu.org/industrial-electrician/
[6] https://www.bls.gov/oes/current/oes472111.htm
[7] https://www.bls.gov/oes/current/oes472111.htm
[8] https://www.electricianschooledu.org/industrial-electrician/
[9] https://www.electricianschooledu.org/industrial-electrician/
[10] https://www.bls.gov/ooh/construction-and-extraction/electricians.htm#tab-4
[11] https://www.electricianschooledu.org/union-vs-open-shop-apprenticeship/
This blog has been labeled as archived as it may no longer contain the most up-to-date data. For a list of all current blog posts, please visit our blog homepage at https://www.rsi.edu/blog/