You've most likely heard of the trades before, but how much do you really know about this potential career path? If you're like a lot of people considering changing careers right now, you may have questions surrounding the trades, for example what professionals in trades fields do and why people would want to train for trades careers.
Currently, some trade schools are reporting an increase in interest and enrollment as people turn towards HVAC/R training, electrician classes and other types of vocational training programs as an alternative to college.1 In fact, colleges continue to report record enrollment lows as a result of the pandemic.2
See what tradespeople are and why people are training for this field in 2021.
Common Questions about the Trades
Do you have questions about the trades? You're in the right place! Here are some quick answers to some common trades-related questions.
What Are Tradespeople?
Tradespeople are professionals skilled in the trades, such as HVAC/R technicians, welders and electricians. They often undergo technical, hands-on training at trade schools lasting anywhere between a few months and a couple years. The experience and qualifications earned in trade school programs can prepare students to enter the workforce right after graduation.
Get Started on the Path to a New Career
Fill out our form to learn how we can help you change your life.
What Jobs Are Trade Jobs?
Any position that requires a set of specialized skills developed through hands-on training, usually at a trade school instead of a college or university, is generally referred to as a trade job. There is a wide array of different trades, so it's likely you could find one matching your interests and goals.
Why Are Workers Joining the Trades in 2021?
Currently, colleges across the country are experiencing continuing dips in enrollment because many Americans have reconsidered their education plans due to the pandemic. In fact, enrollment rates fell to a lower point in 2021 than they were at the height of the pandemic, highlighting the long-term impact of COVID-19.2 At the same time, some trade schools are seeing growth and are even expecting to see more of it moving forward.1
A recent StrataTech survey sought to gain a better understanding of how people viewed the trades following the pandemic, and the findings seem to mirror the trends in college and trade school enrollment. In fact, 57% of Americans enrolled in or considering enrolling in trade school programs said the pandemic was the primary motivation behind the decision.3
Clearly, the pandemic was a major force causing people to reconsider their professional and academic plans, but what about the trades is attracting people to them?
Skilled Trades Surveys Reveal…
Let's explore the results of some recent surveys to determine the most important factors motivating people to join the trades:
Stable Income
In 2020, more than 25% of people said they or someone within their household lost their job due to the pandemic.4 Understandably, this caused many people to look for a more secure source of income, which is part of the reason why trade schools are seeing healthy enrollment.
In fact, 56% of those who were motivated to enroll in a vocational program because of the pandemic said a more secure income was their main goal.3 The StrataTech survey also found 62% of Americans who had to find an extra source of income during the pandemic reported considering trade school as a result of the hardship.3 When asked about the main advantages of the trades, the majority of respondents cited earning potential, driving home the importance of this financial incentive.3
High Employment Rates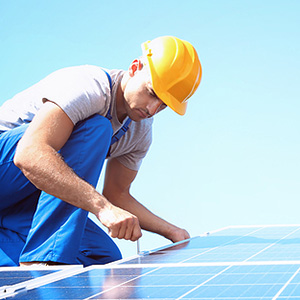 Another study focusing on the factors that would convince adults to return to school found a guaranteed employment outcome was the most compelling motivator.5 The pandemic has caused many to reconsider the popular notion that a college degree is the only secure path to a successful career.
The StrataTech survey found 59% of high schoolers believe a bachelor's degree is necessary to land a good job. This number is down over 10% from the prior year.3 Of those enrolled or thinking of enrolling in the trades, only 51% believe a four-year degree is necessary to get a good job.3 As many fields requiring a college degree experienced slower job growth, the skilled trades continue to see healthy demand. These trends lead many to see the trades as a more compelling employment opportunity.6
Closer Connection to Employment
Another draw of a career in the trades is the closer connection to employment graduates of trade school programs can experience compared to their college-graduate counterparts. In fact, another Strada study involving education experts found one of the major barriers keeping people from enrolling in college was the lack of connection between education and employment.7
The vast majority of bachelor's degree programs take at least four years to complete, while trade schools can prepare students for entry-level positions within a fraction of that time. For instance, The Refrigeration School offers vocational programs ranging in length from three to 15 months.
In addition, many trade schools require only a high school education or a General Educational Development (GED) test. Trade schools can give students a quicker path to the job market, oftentimes requiring less of a financial investment than college.
Essential Worker Status
During the pandemic, millions of Americans were out of work without any warning. However, individuals in roles considered "essential" were permitted to continue working. Unsurprisingly, this uncertainty has led many people to seek out careers considered pandemic-proof.
Because of the important work performed by tradespeople, they are considered essential workers. The StrataTech survey revealed essential worker status was the main motivator for 29% of people enrolled in or considering enrolling in the trades.3
Train to Become a Tradesperson
Does a career as a tradesperson sound like the right fit for you? Want to see how vocational programs can help you prepare for trades careers? Contact The Refrigeration School to chat with a rep today.
1https://hechingerreport.org/more-people-with-bachelors-degrees-go-back-to-school-to-learn-skilled-trades/
2https://www.insidehighered.com/news/2021/04/29/spring-brings-even-steeper-enrollment-declines
3https://stratatech.com/wp-content/uploads/2021/10/2021-StrataTech-COVID-19-Pandemic-Survey.pdf
4https://www.pewresearch.org/social-trends/2020/09/24/economic-fallout-from-covid-19-continues-to-hit-lower-income-americans-the-hardest/
5https://cci.stradaeducation.org/report/back-to-school/
6https://www.businesswire.com/news/home/20210218005336/en/Skilled-Trade-Jobs-Are-Booming-in-Pandemic-Economy
7https://stradaeducation.org/report/reconnecting-hs-experts/
This blog has been labeled as archived as it may no longer contain the most up-to-date data. For a list of all current blog posts, please visit our blog homepage at https://www.rsi.edu/blog/