HVAC professionals who have completed HVAC school may be curious about what it's like to work with an industrial HVAC company. An industrial HVAC company typically services large production facilities, such as factories or warehouses.
An HVAC technician who is employed in the industrial sector might travel to different work sites and be tasked with repairing or replacing custom-made large-scale HVAC units specially designed for that building. Industrial HVAC techs who love their job tend to enjoy new and unique challenges, complex problem solving and independence.
HVAC Training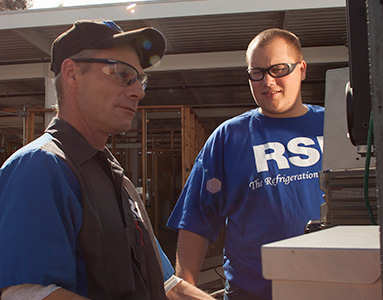 If you already know you are interested in working with an industrial HVAC company and you want to prepare for this career path, enrolling in an HVAC training program is one way to begin gaining the skills you'll need for employment.
An HVAC training program can be attractive to employers because of the technical learning and hands-on experience a student may gain with modern HVAC systems. At The Refrigeration School, for example, the Electro-Mechanical Technologies program instructs students in the fundamentals of electricity, refrigeration and commercial wiring. This 9-month program offers training for those interested in HVAC installation, service or maintenance.
Get Started on the Path to a New Career
Fill out our form to learn how we can help you change your life.
Local Licenses
In some states, you'll need an HVAC certification or license to work as an HVAC technician. Only Colorado, Illinois, Indiana, Kansas, Maine, Missouri, Nebraska, New Hampshire, New York, Pennsylvania, South Dakota, Vermont and Wyoming do not require HVAC contractors to have a state license.1 However, there may be local requirements at the county or city level. These regulations may change periodically, as well, so always be sure to understand your licensing responsibilities before working.
EPA Certification
If you are going to be handling refrigerants as a part of your industrial HVAC job, you will need to have EPA certification. Section 608 of the Clean Air Act requires that technicians who maintain, service, repair or dispose of equipment or appliances that could release ozone depleting refrigerants into the atmosphere, including HFCs, must pass an EPA-approved test. If you are planning on working in industrial HVAC and refrigeration, you will most likely need Section 608 Technician Certification.
There are four different types of EPA 608 Certification:
Type I – Small appliances.
Type II – High-pressure refrigerants.
Type III – Low-pressure refrigerants.
Universal – Capable of working with all three types.
Types II and III are most relevant for industrial HVAC. Type II is specific for high-pressure refrigerants that might be found in heat pumps or commercial refrigeration. Type III is specific for low-pressure refrigerant that is common in complex industrial equipment. The Universal Certification signifies that a technician is competent to work with all three types. (Type I is specific to installing and repairing smaller appliances.)
Other Industry Certifications
If you want to be competitive in the job market, you might consider getting certified with other industry organizations, such as North American Technician Excellence (NATE). NATE certification is considered an industry standard and while this certification is not legally required to work, it is another way for an HVAC tech to show a prospective employer what skillsets he or she possess. NATE certification can be achieved by taking and passing a knowledge-based exam.
Another industry certification to consider is HVAC Excellence certification at the Professional Level, which can be obtained after passing a comprehensive HVAC exam. You must have two years of field experience to take this exam. The Master Specialist Level is another certification that can be earned after three years of field experience.
Job Experience
Like many industries, the more experience you have, the more job opportunities will likely become available to you. Some HVAC techs start by working in residential HVAC, and then after a few years, decide they want to transition over to commercial or industrial HVAC. It's not uncommon for industrial HVAC companies to require 3-5 years of experience, EPA Universal Certification and any licenses required for that area.
Though there may be different ways of getting your foot in the door, gaining experience in the field is a reasonable approach to preparing for work with an industrial HVAC company. For example, you may decide to work with a smaller company or a college to gain experience with HVAC chillers, boilers and controls. During your first few years as an HVAC technician, you can be gaining experience working with the type of equipment that could help qualify you for an industrial HVAC job.
Investing in Your Future
The bottom line: Industrial HVAC companies need to ensure you have the right skills for the job.
Be sure to do your diligence to learn those skills from as many places as you can: from what you learn in HVAC school, with entry-level jobs or apprenticeships, and by studying and taking certification tests. If working with an industrial HVAC company is your goal, investing in your professional training and experience can be a practical way to get started!
1https://www.nextinsurance.com/blog/hvac-license-requirements/
This blog has been labeled as archived as it may no longer contain the most up-to-date data. For a list of all current blog posts, please visit our blog homepage at https://www.rsi.edu/blog/