With healthy growth projected over the next decade but a lack of skilled workers to fill the opening positions, the HVAC industry is primed for eager professionals who are looking for a rewarding and long-term career. In fact, the industry is expected to tack on an additional 38,500 jobs annually over the next 10 years.1 Given these strong numbers, many people are curious about a career as an HVAC technician.
Is HVAC a Good Career Choice?
Everyone has personal preferences and goals that influence their career choices, but there are some overarching factors that most job seekers look for when choosing a profession. A survey conducted by Statista revealed that the three most important factors were salary, work-life balance, and advancement opportunities.
84% of people cited financial incentives such as salary and benefits as the number one motivating factor when choosing a job.2 Work-life balance and opportunity for advancement followed closely behind with 64% and 62% of professionals labeling these as the most crucial considerations when choosing a position, respectively.2
When looking at the opportunities provided by a career in the HVAC industry, all of these highly sought-after characteristics are achievable.
Competitive Pay
One of the first questions people have about the industry is "do HVAC technicians make good money?"
Get Started on the Path to a New Career
Fill out our form to learn how we can help you change your life.
The average starting salary of graduates of RSI's Refrigeration Technologies program is $37,078 for RSI graduates employed during the 12-month period of 7/1/20 – 6/30/21. The average starting salary for graduates of RSI's Electro-Mechanical Technologies program is $39,001 for the 12-month period of 7/1/20-6/30/21.
Both programs train students in the fundamentals of an HVAC technician's job duties. Graduates from both the Refrigeration Technologies and Electro-Mechanical Technologies programs have gone on to work entry-level HVAC tech jobs right after leaving school.
Work-Life Balance
Everyone wants to find a job that leaves enough space for their personal lives to thrive. Naturally, many people wonder "Is HVAC a stressful job?". Although the answer depends on the individual and where they work, HVAC technicians generally find the work manageable to balance with a personal life.
There's variety in terms of work schedules and demands, so you have some flexibility when it comes to finding an HVAC position that lines up with your preferences and personal responsibilities. For example, some technicians are assigned to a single location while others have the role of traveling around to different job sites.
Opportunity for Advancement
HVAC technicians typically start out working as part of a team, providing services for residential, commercial or industrial clients. As tradespeople in the field further hone their skills, they can move up to higher positions with increased earnings. Some technicians advance their careers by specializing in certain areas of HVAC such as radiant heating and balancing and testing systems.
If you're able to build rapport with customers and earn their trust, you might be able to set up service contracts. These agreements ensure you have ongoing work with a specific client while providing them with the advantage of automatic services. This can be an important step on the way to establishing your own HVAC business which can push your earnings even higher.
Is HVAC a Hard Career?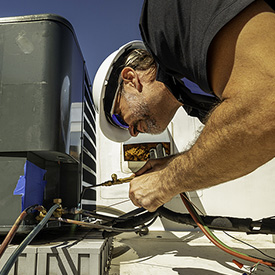 Working as an HVAC technician has its own challenges, just like any profession. For the right person though, these downsides might actually turn into perks. It's not uncommon for HVAC professionals to have to work in small, tight spaces such as attics, closets, and basements. Some technicians work inside, but many have to work outside even when the weather isn't cooperating. If you don't mind moving around a lot during the workday or braving the outdoor weather, you might not find the work too difficult.
How To Start a Career in HVAC.
Before working in the field, if you want to become an HVAC technician, you can train to develop the skills and knowledge specific to the job. RSI offers comprehensive vocational programs designed to fully prepare students for a successful career in the HVAC industry. Contact us today to learn more about our programs and how you can benefit from them. Call (855) 935-0486.
Training To Become an HVAC Technician.
Vocational programs are the first steppingstone towards a career in the HVAC industry. Whether you're just out of high school or looking for a change in careers, you'll learn essential skills in technical training that can qualify you to work in the field. Call (855) 806-4921 today.
1https://www.bls.gov/ooh/installation-maintenance-and-repair/heating-air-conditioning-and-refrigeration-mechanics-and-installers.htm
2https://www.statista.com/statistics/224394/reasons-for-choosing-employment-positions/