So, you've decided to train to become an HVAC technician. You've researched the career path. You know all about the healthy job outlook. You're excited to get out in the industry and start assembling and fixing equipment.1
But what about HVAC school?
Picture yourself in an HVAC training lab. You're working on commercial and residential HVAC equipment. You're handling some of the same tools and technologies that professional HVAC techs use out in the field. Your HVAC instructor is showing you what to do. Other HVAC students are asking questions and chatting with you about the project at hand.2
Does that sound exciting? Keep reading for more details.
4 Common HVAC Student Activities
What will you learn in HVAC school? What could HVAC classes be like? Who might you meet?
Get Started on the Path to a New Career
Fill out our form to learn how we can help you change your life.
Find answers to these common questions below.
1. Learn Technical HVAC Subject Matter
Technical subject matter in HVAC training could include the laws of thermodynamics, air conditioning control principles, HVAC system designs, electric and gas heating and energy management.2
Let's look at what HVAC students at The Refrigeration School can learn:
Electricity Fundamentals
As an HVAC student, you could learn electrical theories and concepts. The training may involve learning about electrical wiring, motors, systems, test meters and troubleshooting.
Residential and Commercial Comfort Systems
Students typically learn about how to work with commercial and residential HVAC equipment. They can gain the skills to install, maintain and repair these systems. They could also learn about chilled water systems, cooling towers and mini-split HVAC systems.
Advanced Troubleshooting Techniques
As HVAC systems become more complex, identifying problems with faulty equipment and making repairs has become an important skillset for HVAC technicians.3
HVAC students can take part in advanced troubleshooting classes. These techniques may include plotting the refrigeration cycle or diagnosing problems with split air conditioning systems and heat pumps.
2. Take Part in Hands-On HVAC Training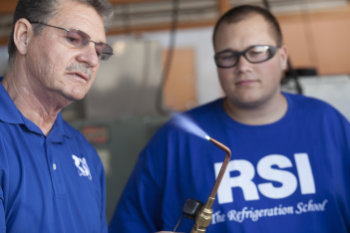 Hands-on training can give you real-world experience in the techniques and practices used in the field of HVAC service. Often called "learning by doing," hands-on training can allow you to simultaneously learn about how to do something, for example installing an HVAC component, while installing the part.4
As a student, you can gain a greater understanding on how the subject matter is applied in the field. Being able to work on HVAC equipment during the training can help reinforce what you're learning. You can typically ask questions right in the lab, and your instructor can further explain concepts and show the correct techniques.4
3. Figure Out How to Manage Your Time
You might have to figure out how to manage your time in HVAC school. In high school, you may have had a preset schedule, spending a large part of the day in classes and the rest participating in extracurricular activities.5
Trade school classes could be more spread out, and you may have free time in-between classes. You may need to learn how to manage your class time and free time. And figure out how to fit in a part-time or full-time job, studying and exercising.5
4. Meet Friends and HVAC Industry Professionals
You likely won't be the only student in your HVAC training program. So, you could meet peers who share your passion for assembling and fixing things. Some fellow students may come from different backgrounds, and you might have opportunities to step outside of your comfort zone and try new activities.5
Another benefit is that you could have the opportunity to meet industry professionals. Trade school instructors are often experienced professionals who bring years of industry knowledge and training to the classroom. They may pass on valuable lessons and practical tips.6
HVAC Resources for New Students
Now you have a better idea of what HVAC school could be like. What else do you need to know about the educational journey ahead of you?
Check out these HVAC resources for skilled trade students.
1https://www.bls.gov/OOH/installation-maintenance-and-repair/heating-air-conditioning-and-refrigeration-mechanics-and-installers.htm
2https://study.com/hvac_courses.html
3https://www.bls.gov/ooh/installation-maintenance-and-repair/heating-air-conditioning-and-refrigeration-mechanics-and-installers.htm#tab-4
4https://bizfluent.com/about-5076464-definition-handson-training.html
5https://www.collegedata.com/en/college-buzz/campus-life/getting-involved/what-will-college-life-be-like/
6https://www.rsi.edu/wp-content/uploads/rsi-faculty-addendum.pdf
This blog has been labeled as archived as it may no longer contain the most up-to-date data. For a list of all current blog posts, please visit our blog homepage at https://www.rsi.edu/blog/