The HVAC industry is a rapidly developing field. If you get bored easily, enrolling in an HVAC program could be a good decision. As an HVAC tech, you may enjoy frequent change and the satisfaction of regularly overcoming challenges.
What's propelling this sector forward? Advancements in technology, consumer trends and government regulations are among the top factors. Since HVAC can be the biggest energy hog in a building, many developments within the industry are focused on enhancing energy efficiency. The field of HVAC is also impacted by changes in the workforce and the consumer market.
So how has the HVAC industry changed?
Market Growth
The good news is, the HVAC market continues to grow.[1] After recovering from the recession in the late 2000s, the HVAC industry has been expanding every year since 2011.[2]
Rising temperatures have been driving the demand for HVAC systems across the globe. The U.S.—one of the world's largest consumer markets for HVAC—has been experiencing very hot summers, which is fueling the need for HVAC systems.2
Get Started on the Path to a New Career
Fill out our form to learn how we can help you change your life.
The nation's construction industry has been thriving, too. People keep building new homes, and older buildings need to have their HVAC systems repaired or replaced.[3]
Labor Shortage

Like many skilled trades, the HVAC industry is suffering from a labor shortage. The industry has been dominated by the baby boomer demographic for decades, and these older workers are now retiring.3
Making the problem worse is the fact that there aren't enough young people with the right skills and qualifications to meet the HVAC industry's workforce demands. Spreading awareness about vocational programs like HVAC training to high school students and graduates could be one solution.
Fortunately, several initiatives to promote a skilled trades career are underway:
Gen T: an initiative by Lowes and 60 other companies to support skilled trades education programs and online job boards.
Strengthening Career and Technical Education for the 21st Century Act: a bill President Trump signed to reform career and technical training programs.
National Skills Coalition: a group focused on supporting "a vision of an America that grows its economy by investing in its people so that every worker and every industry has the skills to compete and prosper."[4]
Smart HVAC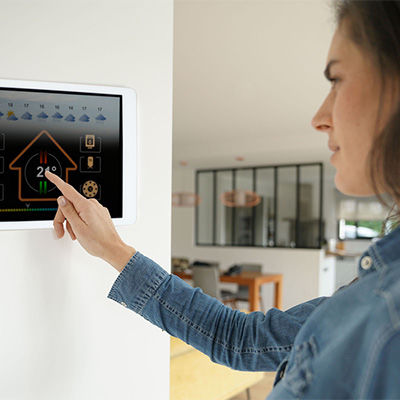 Smart HVAC technology is without a doubt a huge trend. It can help boost energy efficiency via automated controls, Nest thermostats, virtual assistants like Amazon's Alexa and more.3
Consumers used to have to constantly adjust their thermostat and fuss around with their HVAC unit to achieve desired temperature and humidity levels. Smart HVAC technology now allows for systems to gather information about a building's environment and adjust settings automatically.
Smart thermostats, for example, control temperature through internet-connected devices like smartphones, tablets or computers, which lets consumers heat or cool their home from any location.
At the 2019 AHR Expo earlier this year, more advanced automated controls made a big splash. Delta Controls' O3 Sensor Hub, for instance, works like a voice-controlled speaker that is placed on the ceiling and activated via voice controls or Bluetooth-enabled devices. The 03 Sensor Hub can read CO2 levels, temperature, light, blind controls, motion, humidity and more.[5]
Radiant Heating
The HVAC industry these days seeks to improve comfort and safety outside of homes and businesses. Radiant heating systems for outdoors were another type of HVAC technology that made news at the AHR Expo.
Radiant heating basically melts snow and ice. One system by REHAU uses cross-linked pipes that circulate heated liquid under outdoor surfaces. The system automatically collects data through moisture and temperature sensors.
This could be helpful technology for consumers living in regions with heavy snowfall, as it can reduce the risk of slips and falls in the winter.4 A radiant heating system can eliminate the need for snow shoveling, which is good news for people who aren't physically active, are smokers or who have heart disease or other health issues.[6]
HVAC Technician Software
Now here's a change in the industry you might love: HVAC technology is making the lives of techs easier.
Advances in HVAC software have streamlined the processes of dispatching, product invoicing and calling for technical support while in the field. Gone are the days when techs had to write everything down on paper meticulously, keep track of dozens, if not hundreds, of physical HVAC invoices or try to get a hold of someone in person or on the phone.
Intelligent digital products, apps and tools are streamlining the workload and helping technicians get the job done more efficiently.3
Millennial Consumers
One major development that's affecting the HVAC industry is changing consumer demographics.
Millennials are about to overtake baby boomers as the country's largest generation, the Pew Research Center reports.
Millennial consumers have different priorities than previous generations: they tend to be cost conscious, heavily reliant on the Internet and prize personal and social value. Millennials require a different approach when it comes to selling them HVAC products than baby boomers.
Knowing about these differences within the HVAC consumer market is key to running a successful HVAC business.
Success in a Changing Industry
To stay relevant in this industry, it's vital to keep up with the latest changes and developments in HVAC. The HVAC sector is making big strides in our briskly changing economy.
Make sure to not miss the latest green trends in HVAC or HVAC salary news. HVAC technicians familiar with the latest technologies have the best job prospects.[7]
[1] https://www.globenewswire.com/news-release/2019/04/01/1790386/0/en/HVAC-Market-is-Expected-to-Reach-136-5-Billion-by-2024-P-S-Intelligence.html
[2] https://www.achrnews.com/articles/140107-hvac-industry-leaders-tackle-top-issues
[3] https://www.smartservice.com/smart-service-blog/hvac-trends-2019/
[4] https://www.nationalskillscoalition.org/about
[5] https://www.buildings.com/news/industry-news/articleid/21939/title/hvac-field-changing
[6] https://share.upmc.com/2014/01/prevent-trauma-and-emergency-winter-accidents/
[7] https://www.bls.gov/ooh/installation-maintenance-and-repair/heating-air-conditioning-and-refrigeration-mechanics-and-installers.htm#tab-6
This blog has been labeled as archived as it may no longer contain the most up-to-date data. For a list of all current blog posts, please visit our blog homepage at https://www.rsi.edu/blog/